SCHELL system solutions for lasting drinking water hygiene
Looking for a hygienically flawless drinking water system? Whether you have 1 or 300 fittings – we have the system you need.

The all-rounder for networked sanitary fittings
SCHELL SWS Water Management System
The centrally controlled SWS Water Management System is designed for maintaining water quality in larger buildings with a large number of fittings – and with sensors if needed. In this system, all electronic fittings and sensors are networked using a wired or wireless network, and managed systematically by one or more servers. Operating parameters – relating to temperatures, or to the start and end of a stagnation flush, for example – can be read and evaluated using a data protocol. With SWS gateways, the SWS Water Management System can also be integrated easily into an existing building management system.
SCHELL SMART.SWS
Worldwide access to professional water management
The first water management system offering intelligent wired/wireless networking and control for fittings – especially in public sanitary facilities.


The ideal solution for setting individual fitting parameters
SCHELL Single Control SSC
SCHELL Single Control SSC has been designed for the parameter setting of individual electronic taps. Settings can be made quickly and conveniently with the SSC Bluetooth® module, for example, or our free app for iOS and Android. Additional functions, such as the logging of stagnation flushes, are also possible.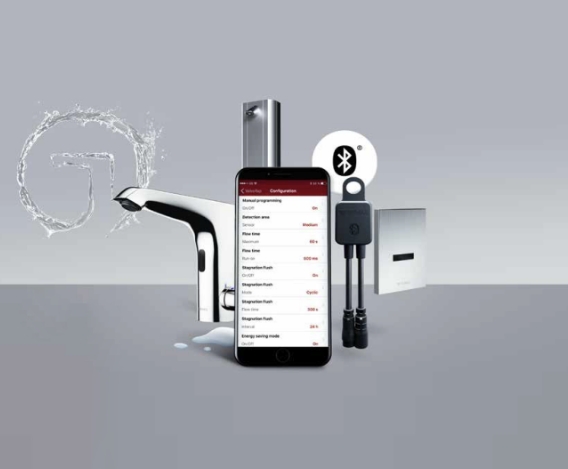 Contacts
Please contact your personal SCHELL rep for help and advice.